PAR
Radiation available for photosynthesis, known as photosynthetically active radiation (PAR), regulates primary productivity, or the rate of carbon fixed by aquatic and terrestrial plantslar radiation available for photosynthesis, known as Solar radiation available for photosynthesis, known as PAR is terms frequently used in horticulture lighting. PAR – Photosynthesis Active Radiation, is light of wavelengths 400-700 nm and is the portion of the light spectrum utilised by plants for photosynthesis.
In these contexts, the reason PAR is preferred over other lighting metrics such as luminous flux and illuminance is that these measures are based on human perception of brightness, which is strongly green biased and does not accurately describe the quantity of light usable for photosynthesis
PAR is often misused while in horticulture lighting , PAR is not metric unit like Kg, Km, Mtr but PAR is types of lights needed for plant growth. Quantum sensor is used to measure the light intensity in horticulture lighting.
PPF
PPF is photosynthetic photon flux. PPF measures the total amount of PAR that is produced by a lighting system each second. The unit used to express PPF is micromoles per second (μmol/s). It is important to note that PPF does not tell you how much of the measured light actually lands on the plants, but is an important metric if you want to calculate how efficient a lighting system is at creating PAR.
PPFD
The second measurement is PPFD which measures the light that actually arrives at the plant or algae. Photosynthetic Photon Flux Density or "PPFD" is a measurement of the amount of light that actually reaches your plants and algae or "the number of photosynthetically active photons that fall on a given surface each second". PPFD is a spot measurement of a specific location on your plant canopy, and it is measured in micromoles per square meter per second. This measurement is expressed by scientists and light engineers as: μmol/m2/s.
A single measurement does not tell you much, since horticulture lights are generally brightest in the center, with light levels decreasing as measurements are taken towards the edges of the coverage area.To ensure you are getting actual PPFD values over a defined growing area, the following needs to be published by the manufacturer: measurement distance from light source (vertical and horizontal), number of measurements included in the average, and the min/max
PPE
Understanding the Photosynthesis Photon Efficacy (PPE) is important for growers while taking buying decision of grow lights.
Photosynthetic photon efficacy (PPE) is a simple concept that can play an important role in plant growth in different agricultural environments Before PPE we should know about PPF (Photosynthesis Photon Flux): No. of photon in PAR waveband emitted by a fixture per second (µmol/s). PPF values is normally measured in lighting sphere.
PPE measures a grow light's efficiency for converting electrical energy into PAR light, from the definition of PPE we can understood that, PPE= the total PAR light the fixture offers per second/the energy it consumes.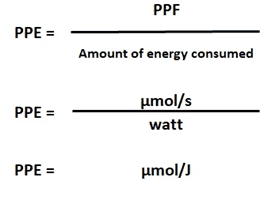 A suppose a fixture generate 600 umol/s and it consumes 300 watts for same then,
The higher value of PPE, the more efficient fixture.
As per DLS (Design Lighting Consortium) standards, PPE value of lights should be equal to or more than 1.9 µmol/J.
Daily Light Integral (DLI)
The Daily Light Integral (DLI) is a measurement of the total amount of photo synthetically active radiation delivered over a 24- hours period and it is important factor influence of plant growth over week and months. The grower can think of DLI as the plant's daily "dose" of light, though a scientist would probably say DLI is a cumulative measurement of the total number of photons that reach the plants during the daily photoperiod. DLI measures the number of "moles" of photons per square meter per day and is expressed as: mol/m2/d.
Obviously, if you leave your lights on longer, your plants absorb more light. Or, put in more technical language, a lighting system with a lower PPF can deliver the same DLI to compared to a lighting system with a higher PPF if the photoperiod is extended.
DLI is the most important metric for determining the overall growth rate of plants. Once you know the preferred DLI of your plants, you can easily set up a lighting system to deliver the required amount of light. Properly designed photosynthetic lighting systems start with defining the required DLI.
Efficiency- Watt (Wattage)
One more important term in horticulture lighting is wattage. How much watts requires to produce desired PPFD. Its depends on efficiency of lighting fixture ( power supply), Ex. If fixture taking 100 watt and giving output of 90 watt means its efficiency is 0.9, In simple terms higher efficiency more PPFD.
Conclusion
Every lighting system is different, and there are numerous factors that affect the total amount of light which is delivered by a light fixture. So, while 'lumens' was easy, it really had no consistent link to the amount of light you were delivering to your plants. PAR, PPF, PPFD.& DLI are precise and consistent terms and measurements used by scientists, researchers, horticulturists and labs around the world.
When selecting a lighting system or fixture for indoor farming , please check following questions with manufacturer
• How much light the fixture produces ( PPF)
• How much of that light is available to the plants (PPFD)
• How much energy used by fixture to make PAR. (WATT)
Referred terms
Mole
A mole is a term used in science and is equal to something called "Avogadro's number", which is 602,214,150,000,000,000,000,000.
Micromole
One millionth of a mole or 602 quadrillion.
Photons
The name physicists give to light particles.
Photoperiod
The period of time during which natural or artificial light is available to promote photosynthesis in plant life each day.
Reference's:-
https://journals.ashs.org/horttech/view/journals/horttech/12/1/article-p12.xml
https://journals.ashs.org/hortsci/view/journals/hortsci/43/7/article-p1947.xml
https://www.sciencedirect.com/science/article/abs/pii/003442579400068X